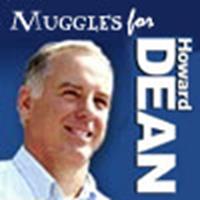 Muggles for Dean, Republicans for Voldemort?
January 21, 2004 at 3:55 PM ET
Cheeser HPANA (via Muggles for Dean)

---
What's the perfect answer to a muggle-run campaign to get Howard Dean elected as president of the United States? Republicans for You-Know-Who! At least you know where you stand with Voldemort, He-Who-Previously-Was-Not-To-Be-Named.
Comic strip Goats has a little fun

with politics, back in August when the California race for governor was going on:
(You can even purchase Republicans for Voldemort t-shirts

.)
The real-life group Muggles for Dean plans to launch in February, and invites similarly-minded Harry Potter fans to join their cause by checking out the site and joining their LiveJournal community

.