Five-part story: Meet JK Rowling
January 16, 2004 at 1:07 PM ET
Cheeser HPANA (via LA Times)

---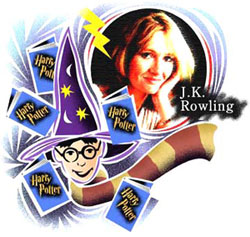 Gloria D. Miklowitz, writing for the LA Times, delves into the world and background of Harry Potter author JK Rowling in a five-part series that ended today.
Part one sets the scene, talking about Rowling's youth. Part two finds out where the once-penniless single mom got the idea for Harry. In part three, we find JK in the now-defunct Nicholson's cafe

, writing the first novel with baby Jessica in tow. Parts four and five takes us to present day.
Thanks to Alison of DanRadcliffe.com

for the tip earlier this week.