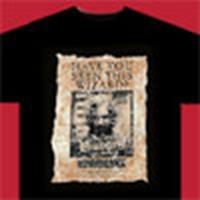 Wanted: Sirius Black on a t-shirt
January 14, 2004 at 10:47 PM ET
Cheeser HPANA (via Wizard Prison)

---
The talk in Hogsmeade is that online store Hot Topic has available for purchase a black t-shirt featuring the infamous Sirius Black wanted poster

. The cost is $18 USD plus shipping.
Thanks to LiveJournal community Wizard Prison

and fan site Siriusly Gary

for the tip.
Availability Update 1/19/04: Hot Topic told HPANA today the shirt will be available to purchase online again around the second week of Feburary. The online store currently shows the t-shirt as "completely sold out".
Also, while not for sale, here's a look at what the film crew of Harry Potter and the Prisoner of Azkaban wore

while on the job, courtesy DigiCasey

.