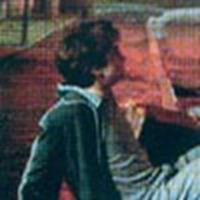 SET Magazine on 'Prisoner' set
January 8, 2004 at 11:59 AM ET
grae The Leaky Cauldron (via Harry Potter o Filme)

---
The Leaky Cauldron

has posted a translation

(courtesy G.V.Linares of Harry Potter O Filme

), of an article in SET magazine reporting from the set of Harry Potter and the Prisoner of Azkaban.
The article talks briefly about Honeydukes (the candy store in Hogsmeade), as well as the scene in the Great Hall where Harry receives his new broom, and also chats a bit with the film's stars Daniel Radcliffe

, Emma Watson

, and Rupert Grint

.
Here is a brief excerpt:
Well-humored and still motivated for being on a production this big, Daniel Radcliffe runs over his words, completes the lines of his co-workers Emma Watson and Rupert Grint, and shows that he looks more like his character than was possible to imagine. "It´s all a great joy," says the young actor, before he confirms that he is getting ready to work in Harry Potter and the Goblet of Fire, the fourth adventure that is going to be directed by Mike Newell. "I love Harry, I'm not in a career far from him," he says. "If I make all the movies of all the books, I'm still going to be a teenager, and I'm going to be just starting."
Translation of article

Scan of article