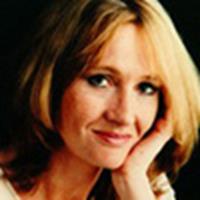 Rowling #12 on EW's "Entertainer of the Year" list
December 20, 2003 at 12:32 AM ET
Geri HPANA (via Entertainment Weekly )

---
Thanks to a tip from pincushion queen, we've learned that the December 26th issue of Entertainment Weekly

has chosen JK Rowling as #12 on their "Entertainers of the Year" list. Bravo Television also has a special 2-hour program

to showcase the top performers of the year (check you local listings)

, Rowling is the first entertainer listed on the show.
This is what the magazine had to say:
It's 12:01 A.M. and New York City's Times Square is in a tizzy, yet Dick Clark is nowhere in sight. That's because it's June 21, the British have reinvaded, and the biggest episode of Pottermania to date has been unleashed with the launch of the fifth installment, Harry Potter and the Order of the Phoenix.
Out of love for J.K. Rowling's charmingly wicked imagination and her skinny, bespectacled wizard-kind, hordes of wannabe Hogwartsians--many of them cloaked in eerily detailed wizard garb-- stayed up way past the witching hour to get their lil' Muggle hands on her doozy of an 870-page book. And man, oh man, Gryffindors and Slytherins alike agreed that it was worth the three-year wait! With its unprecedented dark tone and oh-so-shocking death of a key character, even EW's contributing spook-meister Stephen King raved about volume 5's "wit and playful black humor" and "the greatest make-believe villain to come along since Hannibal Lecter."
In the first 24 hours, American buyers snapped up 5 million copies of Phoenix; to date, 250 million Potter books have been sold worldwide. Rowling's publisher, Scholastic, cashed in on the sorcery saga's popularity by commissioning a record-breaking 8.5 million first printings for the U.S. launch. No doubt Scholastic-- and overly anxious fans--are trying to pry open the matriarch of magic's chamber of secrets for information on the sixth Potter. Care to divulge anything, Ms. Rowling? We won't tell.... Okay, we thought so. Until its release, fans can console themselves with the third film, Harry Potter and the Prisoner of Azkaban, which hits theaters June 4.
And really, what fun would it be if she spilled the every-flavor beans? Like any good storyteller, Rowling knows the value of anticipation--literally: The 38-year-old mother of two, who has earned an estimated $444 million from the franchise, is now reportedly worth some $47 million more than Queen Elizabeth II. Take heart, Your Majesty; you're still pretty rich for a Muggle.
Harry Potter and the Order of the Phoenix was also #9 on their "Best Fiction Book of the Year" list.
The magazine's latest issue is on newsstands today (in some areas).