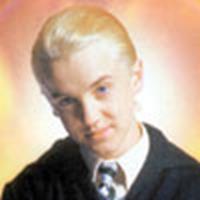 Tom Felton would continue Malfoy role "without hesitation"
December 9, 2003 at 8:50 AM ET
Geri HPANA (via Tom Felton 922)

---
The December issue of French magazine ONE interviewed Emma Watson, but what we didn't know at the time was they they also had a November interview with Tom Felton, who plays Draco Malfoy in the Harry Potter movies.
Fan site Tom Felton 922

has a translation of the interview in which Tom discusses his love of fishing, working with Daniel and never reading the Harry Potter series.
Here are a few questions that he answered:
ONE: Can you at least tell us how your character will evolve in this film?
TOM: (laughs) No, I can't tell you that either! Alright, since you insist, I'll give you one scoop on the film, but this will be the only one. In The Prisoner of Azkaban, Malfoy has a new haircut. He doesn't have his hair plastered back with gel. It was the director's idea, and I can't say I don't like it. It gives me less time in makeup. (laughs)
ONE: So, if they ask, would you accept the part in the next four "Harry Potter" (films)?
TOM: Yes, of course. Without hesitation. I like the Malfoy character too much to let someone else take it.
ONE: Did you read J.K. Rowling's books?
TOM: I'm ashamed to admit it, but no. Contrary to most film actors, I preferred not to read them because I thought it would influence my acting too much. I wanted to play the role of Malfoy as he was written in the scene and not in JK's books. Maybe one day I'll read them. For now, I'm not too drawn to the reading.
Update: Thanks to French site Potter World Online

, you can view some absolutely stunning scans of the article

.