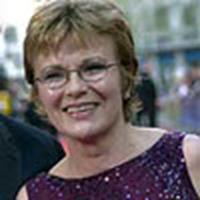 Weasley mum Walters talks to Latino Review
December 8, 2003 at 12:35 PM ET
Cheeser Wizard News (via Latino Review)

---
Changes abound in the way the Weasley family dresses in Harry Potter and the Prisoner of Azkaban, according to actor Julie Walters

, who portrays mother Molly:
"We had a French costume designer [Jany Temime]," she sighs happily. "The Weasleys look so chic [now]. I've still got my poncho, but it hangs in a different way. It has got these beads that pull it down. Just gorgeous."
Walters jokes that she hasn't got a lot to do in the third Potter flick (sounds a lot like Dame Maggie Smith's comments back in July):
"I've only got a couple of lines," she laughs. "I think 'Hello!' is one of them. 'Harry, good to see ya.' I think that might be another one. But it is lovely going back each year to do it. It is really lovely."