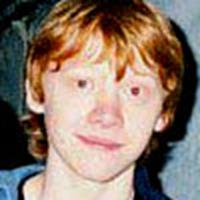 'Prisoner of Azkaban' wraps principal filming
November 27, 2003 at 4:06 PM ET
Cheeser HPANA (via HP4U.co.uk)

---
"Sirius" over at HP4U.co.uk

- the lucky bugger - was able to attend the wrap party for Harry Potter and the Prisoner of Azkaban last week and we have some pictures

as well as an on-site report

from him:
Well, what a night! It was a very cold and (typically UK) wet night, but hey, we were going to the

Prisoner of Azkaban

party, so who cared?! Driving up there was great, the excitement, the talk about who we wanted to meet, who we wanted to see. As we went toward the main entrance, it was exactly as the Oscar ceremony would be: flood lights all in the sky, waving in the dark night. We had our heads out of the windows as we drove up the runway!
Warner Bros. had without a doubt put on a fantastic show. There was a huge bonfire leading up to the main area, the marquees were massive with two Knight Buses lit up brilliantly with different coloured lights, a stage in the middle (mainly being used by an absolutely awesome Mexican band, all I know is that they were brought over for the one and only Alfonso).
One of Cuarón's favourite scenes was filming Aunt Marge.
Alfonso, with his wife and daughter, remarking that when he started out making this film he was on his own, now he is married to a lovely wife and has a baby girl. "What a year," he said.
OK, now Daniel - what a guy. It doesn't matter how many fans he has around him, he takes time to sign everybody's things. We met him very briefly on location, but this time had a chance to chat. He had a posse of girls around him when we caught up with him, signing away in the pouring rain outside, but was as happy as ever. We put up an umbrella and chatted for a while, we asked a few things (which will be posted shortly). This was billed as an end-of-filming party, but Daniel and a few others are still filming up to Christmas (don't worry, this doesn't affect the release date of the film, just extra bits I guess).
Apart from Daniel, without a doubt one of the nicest guys you could ever meet is Jamie Waylett. He's just so happy to chat and take some time out for you, it was nice for my sons that he remembered them from filming on location and stood for pictures with them. Actually EVERYONE who has anything to do with the films are ALL are like that. Rupert, Jamie and Devon were excellent and never let any of their fans down (we followed them all night patiently), to get a glimpse, a picture or signature. They took ages in signing books, scraps of paper, and never, never complained once. We watched the fans all leaving with big grins, happy to have met their idols.
I'll end at the moment with Emma Watson and Bonnie Wright. What truly lovely girls. I'd never met them before, they were with all their friends and, unasked, they each individually came over, chatted and signed some items, taking the time to make everyone happy before rejoining the party.
These excerpts reprinted with permission. Read the entire report over on HP4U.co.uk's site, and stay tuned for more pictures and details from the party! Thanks so much to "Sirius" for allowing HPANA to post this, and to our own Geri for organizing it all.
The Leaky Cauldron also posted a wrap party report

earlier this week.