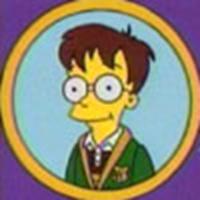 JK Rowling's 'Simpsons' appearance simple
November 24, 2003 at 12:17 AM ET
Cheeser HPANA (via Veritaserum)

---
After much ballyhooing, the creator of the Harry Potter series finally made her appearance on a star-studded November sweeps episode of The Simpsons

.
JK Rowling had a cameo alongside British Prime Minister Tony Blair and actor Sir Ian McKellen (who did an hilarious bit about the curse of Macbeth

), when the Simpson family visited Britain.
Matthew of Veritserum

has put together a great little summary of the show

, including screen captures. Thanks for your efforts, Matthew!