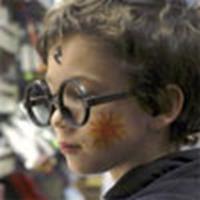 Muggles turn out for library's 'Potter' party
November 18, 2003 at 8:44 AM ET
Cheeser The Leaky Cauldron (via The State News)

---
About 150 wizards-in-training visited the East Lansing Public Library

in Michigan on Saturday, put on by Friends of the East Lansing Public Library

and students from East Lansing High School

:
"(When I was a kid), I don't remember reading and feeling that anything could happen on the next page," said Librarian Linda Yeager, who dressed as Hogwarts headmaster Albus Dumbledore for the gathering. "That's how you feel with (Harry Potter author) JK Rowling's writing. I also don't recall any book series where you grow up with the character."
With tricks including levitating a glass of water in the air and multiplying plastic flowers, magician Jeffrey A. Olds

mesmerized children and parents alike.
"I portray a Hogwarts (magical academy) graduate and take the audience on a tour of what happened during the fifth year, which Harry Potter just graduated from in the last book," Olds said.
In reality, Olds graduated from MSU in 1993, and the Harry Potter books later fueled his inspiration. "With the help of my graduate program in business management, I am able to make magic a full-time career," Olds said.
[Editor's Note: I've had the pleasure of working with Jeff Olds a number of times, and he's a great local magician. Now I'm sorry I didn't get to attend this wonderful party! You should pay attention to local Potter happenings and try to make it to one; they're almost always a blast.]