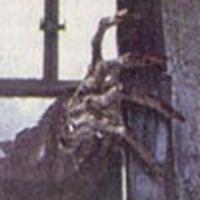 Scans of 'PoA' pics from USA Today
November 7, 2003 at 1:42 PM ET
Cheeser The Leaky Cauldron (via USA Today)

---
Things on the Prisoner of Azkaban front have definitely heated up in just the past few days. Now a Leaky Cauldron reader has sent in scans from today's USA Today which includes wider shots of some of the earlier published images, plus the first glimpse of a Dementor, and another shot of Sirius Black on a wanted poster. Harry Potter 3, here we come!
Floating Aunt Marge

(with her dog Ripper below)
Dumbledore at Start of Term

(with Lupin in bottom right corner)
A Dementor's Hand

(scary!)
Sirius Despair

Plus one more!
Snape protecting the trio

I'm sure we'll be seeing hi-res versions of all the new photos in the near future.