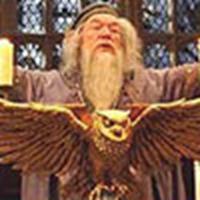 Dumbledore, Aunt Marge in more 'Azkaban' photos
November 7, 2003 at 7:42 AM ET
Geri MuggleNet (via USA Today)

---
USA Today has additional pictures

from Harry Potter and the Prisoner of Azkaban showing Michael Gambon

as Dumbledore and Pam Ferris

as an inflated Aunt Marge.
This movie, which arrives in theaters June 4, 2004, is spookier, darker and more emotional, with a more adolescent and angry Harry Potter, now 13, a new Professor Dumbledore and a more contemporary look for Harry and his pals, Ron and Hermione. All of this from a new director, Alfonso Cuarón

.
Producer David Heyman says:
"Alfonso really understands the nuances of being a teenager, and that's vital to this film. It's much more grounded in reality. This is a magical world, but not a fantasy world. This film has the magic of A Little Princess, but the reality of Y Tu Mamá. But I can assure you that Harry, Ron and Hermione are not going off on a road trip. No ménages à trois."
The trailer which appears in theaters next Friday offers the first glimpse of the evil hooded Dementors.