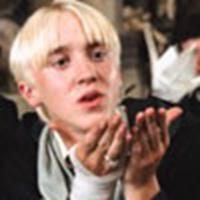 Draco, Sirius featured in new 'Prisoner' promo pics
November 6, 2003 at 3:45 PM ET
Cheeser HPANA (via The Z Review)

---
The Z Review has received five new promotional photos for "Harry Potter and the Prisoner of Azkaban." They include a shot of the trio, a dark and dreary Hogwarts landscape, Sirius in his prison cell, and Draco Malfoy. Thanks to Jenna from DanRadcliffe.com and reader Marianne for the tip!
Enjoy! DanRadcliffe.com

also has the photos online if the ones above aren't available.