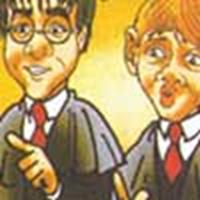 Muggles and Radcliffe in the comics
October 26, 2003 at 4:30 PM ET
Geri HPANA (via Various)

---
It seems that anything to do with Harry Potter manages to make it into the comics these days.
The Life and Times of Daniel Radcliffe

is brought to us via DanRadcliffe.co.uk

. The light-hearted comic strip about the life of Daniel comes from RC Rollercoaster Magazine''s Spring 2003 issue.
Also Ziggy

has come up with another Potter themed strip. Thanks to TLC for the heads-up.