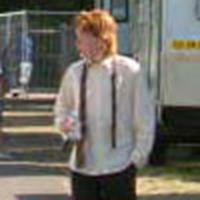 Exclusive: New behind-the-scene photos from 'Azkaban'
October 23, 2003 at 10:32 AM ET
Cheeser HPANA (via Reader submission)

---
We're proud to make available some good quality photos from the set of "Harry Potter and the Prisoner of Azkaban" at Virginia Water, thanks to HPANA member Nebula69_klh. Included are pictures of the horse that will be used as a unicorn, the paddock set, the man-made beach, and Rupert Grint at his trailer:
Dursley house on Privet Drive


Man-made beach


Robes


Hippogriff (horse)


Hippogriff 2 (stand-in for other horse)


Stone wall


Stone wall 2 (another angle)


Some rocks


Rupert Grint walking from his trailer


Extras (students) lounging about

Some great first-person accounts of the filming at Virginia Water

is available at the Prisoner of Azkaban Movie Guide site, and DigiCasey has a great collection of more behind-the-scene photos

.
Update: Even more pictures

! Thanks to Allyson (buttah) for the tip.