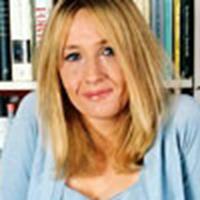 Rowling arrives in Spain to accept award
October 22, 2003 at 5:01 PM ET
Cheeser HPANA (via ExpresoHogwarts.com)

---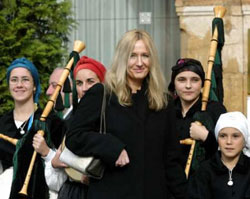 Rowling poses with bagpipers on her arrival to the Spanish northern town of Oviedo October 23, 2003.
© REUTERS/Alonso Gonzalez
Thanks to ExpresoHogwarts.com for letting us know JK Rowling will be arriving Thursday in Spain to accept her 2003 Prince of Asturias Award for Concord

. The event will be covered online

, but Rowling is not expected to speak:
Some commentary received from ExpresoHogwarts.com:
...the awards have been criticized a lot because they chose JKR not for the literature award, but the Concord award. People [here] joke about it and famous writer Fernando Savater said two days ago on TV that JKR should've received the Concord award for Harry Potter as much as Quidditch should've received the sports award.
Check out this interactive feature

on why JK Rowling was awarded.