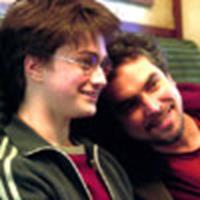 Radcliffe: Cuarón 'more intense'
October 22, 2003 at 9:27 AM ET
Cheeser The Leaky Cauldron (via Official site)

---
The official Harry Potter movie site has posted a short interview with Daniel Radcliffe

, the main star of the film series. He talks about being "obsessed" with film and music, being good friends with Emma Watson, Rupert Grint, Tom Felton and Matthew Lewis, and filming under the Mexican director Alfonso Cuarón:
Q: How does working with the new director (Alfonso Cuarón) compare with your experience with Chris Columbus?
A: First of all, I consider myself very lucky to have worked with two great directors on these films. Chris is without doubt, the most energetic director I have ever met. He was amazing in keeping us motivated and in encouraging us every step of the way. Alfonso on the other hand directs in a more intense way. The scenes in this film are some of the most passionate and emotional I have ever worked on and Alfonso's style has been very helpful to me.
Q: Are you going to work in anymore Harry Potter films?
A: At the moment I am working on Harry Potter and the Prisoner of Azkaban and I will certainly make Goblet of Fire. After that? Who knows?
Check out the full interview at the link above.