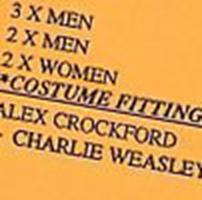 Alex Crockford for Charlie Weasley?
October 21, 2003 at 1:33 PM ET
Cheeser HPANA (via HP4U.co.uk)

---
The same site that posted a new set report for Harry Potter and the Prisoner of Azkaban also has some new call sheets

, one of which clearly identifies

an extra playing Charlie Weasley as Alex Crockford, in the Weasley's Egypt family portrait published in The Daily Prophet:
COSTUME FITTINGS
Three "Arab Guides"
Two male tourists
Two female tourists
One "camel handler"
ALEX CROCKFORD - CHARLIE WEASLEY - costume/make-up/hair fitting
Another interesting tidbit is this message from the animal department

. It appears the animal trainer doesn't want anyone to upset Aunt Marge's dog

.
To see the rest of the call sheets, visit HP4U.co.uk

.