New 'Prisoner' set report
October 21, 2003 at 10:57 AM ET
Geri HPANA (via HP4U.co.uk)

---
HP4U.co.uk

has kindly agreed to let us post Part I of a set report from a recent visit to Leavesden Studios in October.
Here is just a little from the report: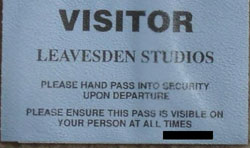 The Hospital Wing - Truly awesome. The first of the sets that was prepared exactly and the first of the filming action we watched. Tons of Ron's, Hermione's and Harry's everywhere! There were just so many doubles, all ready for the preparation of the day's scenes. Even watching the 'doubles' work was great. The hospital scene was great; Ron lying in his bed, Dumbledore announcing to Hermione that two turns should do it... We were so lucky to go behind the set and watch a full five minutes of the finished version on the incredible editing machines - which even without the correct sound balance, etc. was brilliant.
This was the first of five scenes we watched being filmed that day, but for 5 minutes footage it took just over four days filming! - Which, depending on the editors might not even make the final cut.
Did you know - There are two Hagrid Huts built, and one is larger than the other? They film the children in the large hut, where everything is oversized using a double for Hagrid, then they film the "real" Hagrid in the smaller hut - making him look even bigger. Then they put the two clips together - simple, but clever?
More to come: including crew comments, mmmm... Some good, some VERY bad. Also watching the Quidditch scenes being filmed, The Great Hall, Diagon Alley, the props department, and what do the Dementors look like?
Read the full report

for more. Part II should be available shortly.