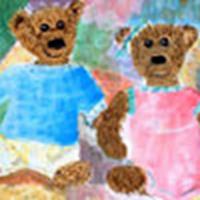 Emma and Rupert get artistic for charity
October 21, 2003 at 2:03 AM ET
eudaemonia RupertGrint.net (via Kith & Kids)

---
Emma Watson and Rupert Grint recently showed off their artistic abilities for Kith & Kids

, a charity that works with disabled children and young people. The young actors each contributed a 16" x 20" acrylic painting on canvas:
Emma Watson's Painting: Teddy Bears Picnic

I am a big fan of Art which I have always enjoyed, so it was a pleasure for me to be given the opportunity by 'Kith & Kids' to paint a picture for them.

I wanted to create something to remind people that the painting they had bought had been for a children's charity. I wanted to paint something for 'Kith & Kids' that was happy cheerful and a subject for children. A very ill child came to visit the Harry Potter sets all the way from Germany; I talked to her for a few minutes and she handed me these two lovely bears that she had brought all the way from her home. One a girl the other a boy, they were dressed to match. Hence the two little bears in my painting. I hope you like it. Love Emma Watson xxx
Rupert Grint's Painting

I'm currently filming in the HARRY POTTER Films and art is one of my many interests. My picture was inspired by my favourite style of art surrealism. I wanted to create an image that was different and unusual. Please note this picture can be viewed upside down also.
A gala event titled "Art 4 All" took place on October 9th, exhibiting and auctioning off their and other celebrity paintings. So far, the event has raised £22,000 for Kith & Kids, but there are still opportunities to contribute to this worthwhile cause since there are still works for sale, (including Rupert's painting)

!