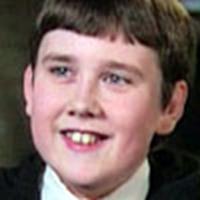 Matthew Lewis talks about 'Potter'
October 7, 2003 at 2:44 PM ET
grae CBBC Newsround

---
As we reported earlier, George and Fred Weasley, otherwise known as Oliver

and James Phelps

, were present along with Tom Riddle portrayer Christian Coulson

at this year's Collectormania 4

.
Matthew Lewis

, aka Neville Longbottom, was also in attendance, and CBBC Newsround

has a brief interview

with him.
"Filming is going quite well," he said, talking about the long-awaited third movie, the Prisoner of Azkaban. "Neville's a great character to play.
"We're a bit behind schedule but we should be finishing soon. In fact, me, James and Oliver, who play Fred and George, should be finishing some time in October.
"It's quite hard to say goodbye to everyone but we will be starting to film the fourth one soon. I've officially signed up for the Goblet of Fire.
"Azkaban's been great and the best bit is the Monster Book of Monsters - that was really fun to do."
He added he was excited about the way his character is developing in the books.
"It's cool because Neville's always been there in the background before but in book five he's suddenly bigger," Matthew said. "It could be Neville that the prophecy's talking about - and to do that as a film would be brilliant."
CBBC Newsround also has pictures from Collectormania, which you can see here

.