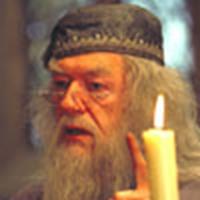 New set report from 'Azkaban'
October 5, 2003 at 3:37 AM ET
eudaemonia MuggleNet

---
MuggleNet has posted an awesome new set report by Miles Taylor

who was lucky enough to get a pass into Leavesden Studios as a VIP guest (even before he arrived -- guess who the driver was). His behind-the-scenes experience of Harry Potter and the Prisoner of Azkaban movie included a peek of the film's concept art, a guided set tour, a visit to the special effects/creature workshop, and a close-up filming of a scene.
Here's an excerpt from Miles' very detailed narrative:
I darted over to the comfy armchairs that Rowling can't stop describing, and plopped down into one in front of the fireplace. They were comfy! Like sinking into a warm bath. After a good look at the pumpkin juice bottles (which look very good...the screw on top is a miniature pumpkin and the drink inside looks tempting...should have taken a sip), we took the stairs up to the boy's dormitory. More party things were strewn about up there, too, and I decided to take another break and layed down briefly on Harry's bed. Over on Ron's bed was an issue of Martin Miggs and the Mad Muggle which was mildly entertaining, but a whole lot cooler to just know that they'd made one. I checked out a few wizard's cards on the table beside his bed and noticed that, while most of them have Dumbledore's description on the back, some have pictures of what look like members of the crew.