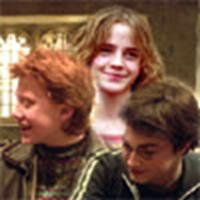 Harry on magic ride to maturity
October 4, 2003 at 4:41 PM ET
Geri MuggleNet (via The Herald Sun)

---
On the set of Harry Potter and the Prisoner of Azkaban -- the third blockbuster of the series -- the stars show how much they have matured in the three years since filming of the JK Rowling books began.
Draco Malfoy drives a BMW, Harry Potter is keen on Jane's Addiction, and Hermione is into break dancing - these are just some of the things the stars of Harry Potter are currently enjoying

.
Tom Felton

comments on driving:
"I have a black BMW 316 Estate for my training car while I'm 16 and I'm looking at getting a 1.8 sports coupe for my first proper car."
No less sophisticated is Daniel Radcliffe

who says one of his favourite movies is the raunchy R-rated Y Tu Mama Tambien Alfonso Cuarón

made before he took over directing duties at Hogwarts from Chris Columbus

.
Rupert Grint

is now a crack pool player -- he has a table in his dressing room -- and has also taken up golf.
And Emma Watson

loves dancing:
"While I'm here, I have lessons -- modern, street, body popping, break dancing and that. Back home I just hang out with my friends."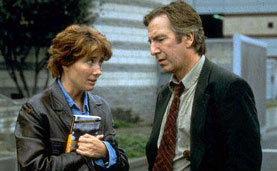 Thompson with Alan Rickman in
Judas Kiss
Cuarón admitted that the film would be noticeably older than the first two, with more sinister themes. The stars also would have a more contemporary look. We can expect more exotic animals, including a half bird, half horse creature called a Hippogriff.
Oscar-winning actress Emma Thompson

(pictured left with Alan Rickman in a film they did together) may make a guest appearance as the eccentric Professor Trelawny, completing an ensemble cast that boasts Gary Oldman

, Julie Christie

and Robert Hardy

.
Filming is nearly finished at Leavesdon, near London, but the movie is not due for release until June 2004. Pre-production on the fourth film began this week.
I'm not entirly sure if Emma Thompson will be Trelawney as we have heard nothing from Warner Bros. or anyone else - so I would take this a rumor until we know more.