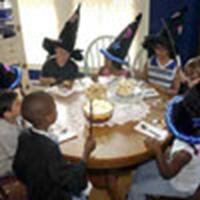 Potter party with tasty treats
August 21, 2003 at 5:09 PM ET
eudaemonia Wizard News (via Detroit News)

---
Eight young Harry Potter fans held a small party in Detroit to try out the sweet English desserts mentioned in the book series

:
Gabriele Mattei, 10, of Detroit bit cautiously into a slice of treacle tart, Harry Potter's favorite dessert, then chewed, swallowed and pondered with the air of a connoisseur. "I love it, it's delicious," she said. "I thought it was going to taste of apple but it surprised me!"
Gabriele was one of eight children, aged 2 to 10, who gathered last week at a house in Detroit's Indian Village for a "Harry Potter" party where all the foods served were authentic English dishes mentioned in the popular books.
While British children are intimately familiar with the foods in author J.K. Rowling's enchanting series, American youngsters have likely wondered if there really are such things as rock cakes, treacle tarts and spotted Dick pudding.
The answer is yes, and they taste good.
The rock cakes were a hit with all of the children, who thought they tasted like blueberry muffins. "If there are any of these rock cakes left," said Garrett van Hecke, 9, of Detroit, "I'd like to take them home with me."
In another related article, recipes for some of the dishes such as rhubarb crumble, treacle tarts, and trifle are available for interested readers to create and taste

. Here's one of them:
Rock Cakes
[i]15 minutes to make
12 minutes to cook
2 cups self-rising flour, or plain flour sifted with 2 teaspoons baking powder
Pinch of salt (optional)
1/2 cup butter or margarine
1/2 cup fine granulated sugar
1 cup mixed dried fruit (such as a mixture of moist packs of dried apricots, raisins and cranberries)
Finely grated rind of small orange
1 egg, beaten
3 tablespoons milk
Juice of 1/2 small orange[/i]
Preheat oven to 425 degrees.
Lightly grease baking tray.
Sift flour and salt.
Using pastry blender, cut margarine or butter into the flour.
Add sugar, dried fruit and orange rind.
Stir in egg.
Add milk and just enough juice to make a stiff, sticky consistency that will stand in peaks when stirred with a knife.
Put walnut-sized heaps of mixture on baking tray.
Allow them to keep a rough, rocky shape.
Do not flatten or smooth them.
Bake for about 10 to 12 minutes or until golden and firm. Cool on rack. Cool completely for flavor to develop.
Makes 36 servings.