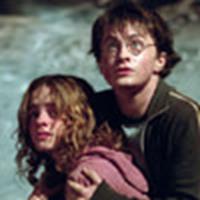 Daniel and Emma in love?
August 19, 2003 at 1:09 PM ET
grae RupertGrint.net (via Bravo)

---
Here's the latest juicy gossip

from the set of Prisoner of Azkaban, brought to you by the German magazine Bravo. The article is in German, so with the help of a friendly babel fish I attempted a (very) rough translation:
Caption in upper left corner:
Professor McGonagall (Maggie Smith) gives Harry a speech, because he would have arrived nearly too late at Hogwarts.
Captions with Knight Bus pics:
The "Knight Bus" saves Harry from the Dursleys, after he bewitches Aunt Marge...
...nevertheless without a ticket the Bus doesn't run for a sorceror's apprentice!
Caption with pic of Emma and Tom:
Emma Watson attacks Tom Felton with a sample of her magic from her wand. Perhaps he was jealous of Daniel...?
Headline of article:
Daniel & Emma: Secret love at the set?
With the trick to "Harry Potter and the Prisoner of Azkaban" knistert's(?) violently! Bravo went to the matter...
Inset within article:
Emma: "I have fallen in love - with a colleague..."
Text of article:
Does he have a girlfriend? This question was asked to Harry Potter actor Daniel Radcliffe again and again. And his answer was again and again: "For that I am still too young!" As Bravo visited "Harry Potter 3" briefly after he turned 14, Daniel surprised us at the set with a new answer to this question: "It is a private matter!", it's still a secret. Is it because of the rumors? That Dan and Emma Watson (in the films as Hermione Granger) were a couple? Emma admits openly: "I have fallen in love - with someone, who works here!" We therefore think it could be Daniel...
For the new "Harry Potter" film, Daniel gives clearer answers. "The Prisoner of Azkaban" is the darkest of the series so far. Dan: "One knows from the book that the Dementors are violent. I saw none however, as they are all developed on the computer." Emma adds: "I saw a few designs of the Dementors - the purest horror. Under its black hood one does not recognize at times their face. I am glad that those are really not here." In the end Daniel reveals more: "I will fly also in the fourth film on the 'Nimbus 2000' - and Emma participates again also!" The two will thus get to know each other even better...