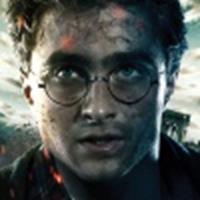 'Deathly Hallows'
'Deathly Hallows: Part 2' returning to UK theatres with special prize package
September 26, 2011 at 12:00 PM ET
Jeremy HPANA (via Warner Bros.)

Deathly Hallows, Part 2, Harry Potter, WB, UK, 3D Poster
---
Warner Bros. have just announced that Harry Potter and the Deathly Hallows: Part 2 will be returning to cinemas throughout the UK between September 30 and October 2, where cinemagoers will receive a special 3D poster for the film with a purchased ticket.
As a special celebration of the film event of a generation, UK cinemagoers who see the film at participating cinemas between September 30th and the 2nd of October will get a free limited edition lenticular (3D) poster from the cinema box office when they collect their ticket. Posters will be available strictly on a first come first served basis on all tickets purchased to see this film during the qualifying period. Terms and conditions and a full list of participating cinemas can be found
here

.
For our UK readers: are you interested in this?



Original material copyright © 2002-2023 HPANA. All rights reserved.

The WIZARDING WORLD franchise, its related characters, names and indicia are trademarks of and © Warner Bros. Entertainment Inc. WIZARDING WORLD publishing and theatrical stage rights © J.K. Rowling. Materials from the HARRY POTTER™ and FANTASTIC BEASTS™ series of films are © Warner Bros. Entertainment and displayed here under the fair use doctrine for news coverage, analysis, and noncommercial transformative artistic expression. Other rights may be reserved by WIZARDING WORLD DIGITAL LLC.

WIZARDING NEWS™ and HPANA™ are service marks of an independently operated fan site, not affiliated with nor sponsored by any franchise owner, subsidiary, or licensee.