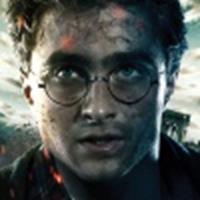 'Deathly Hallows'
'Deathly Hallows: Part 2' returning to UK theatres with special prize package
September 26, 2011 at 12:00 PM ET
Jeremy HPANA (via Warner Bros.)

Deathly Hallows, Part 2, Harry Potter, WB, UK, 3D Poster
---
Warner Bros. have just announced that Harry Potter and the Deathly Hallows: Part 2 will be returning to cinemas throughout the UK between September 30 and October 2, where cinemagoers will receive a special 3D poster for the film with a purchased ticket.
As a special celebration of the film event of a generation, UK cinemagoers who see the film at participating cinemas between September 30th and the 2nd of October will get a free limited edition lenticular (3D) poster from the cinema box office when they collect their ticket. Posters will be available strictly on a first come first served basis on all tickets purchased to see this film during the qualifying period. Terms and conditions and a full list of participating cinemas can be found
here

.
For our UK readers: are you interested in this?



Original material copyright © 2002-2019 HPANA. All rights reserved.

Harry Potter and Fantastic Beasts characters, names and related indicia are trademarks of and © Warner Bros. Entertainment Inc. Harry Potter, Fantastic Beasts and Pottermore Publishing and Stage Theatrical Rights © J.K. Rowling. All Rights Reserved. J.K. ROWLING'S WIZARDING WORLD is a trademark of J.K. Rowling and Warner Bros. Entertainment Inc.

HPANA™ is an independently operated fan site, not affiliated with nor sponsored by any franchise owner, licensee, subsidiary or other participant.