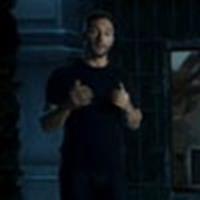 Jason Isaacs
First look at 'DH, Part 1' Blu-ray's 'Maximum Movie Mode'
March 23, 2011 at 5:46 AM ET
Geri HPANA (via Entertainment Weekly)

harry potter and the deathly hallows movie, deathly hallows movie, hpdh movie, deathly hallows, jason isaacs, dh dvd, deathly hallows dvd
---
With just weeks to go till the DVD release of Harry Potter and the Deathly Hallows, Part 1, Entertainment Weekly has an exclusive first look

at the Blu-ray combo pack's "Maximum Movie Mode" feature.
The video features Jason Isaacs (Lucius Malfoy) on an interactive journey through the film, revisiting important moments from previous movies as a walk-up to the final installment's arrival in theaters on July 15.
Deathly Hallows - Part 1 will be released on DVD and Blu-ray April 11 in the UK and in the U.S. on April 15.