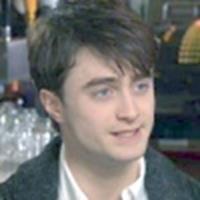 Radcliffe
Video: Daniel Radcliffe's 45-minute interview with Katie Couric
March 13, 2011 at 3:35 PM ET
Cheeser HPANA (via CBS News)

dan radcliffe interview, katie couric, harry potter, cbs sunday morning, broadway, equus, how to succeed in business
---
Katie Couric's weekly web show @katiecouric has released

its extended interview with actor Daniel Radcliffe from CBS Sunday Morning.
Growing up before the eyes of the world, Couric asks the Harry Potter star about his experiences old and new, and whether or not he'd be open to portraying a middle-aged "Potter" in a future film.
They also discuss his new Broadway play How to Succeed in Business Without Really Trying, Radcliffe's disdain for clubs and Googling himself.
"Obviously, your childhood was unconventional," Couric said. "Do you feel as if you had one? Do you feel at all robbed?"
"No. I don't feel in any way robbed, because the thing is, growing up on those sets, you were still allowed to be a kid. You could get away with a lot more running around, and playing games, on a film set than you can at school. Certainly!"
Watch the entire interview below: