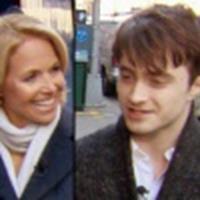 Couric and Radcliffe
TV: Dan Radcliffe interview on 'CBS Sunday Morning'
March 12, 2011 at 5:40 PM ET
Cheeser HPANA (via Orlando Sentinal)

daniel radcliffe interview, katie couric, trevor project, harry potter and the deathly hallows part 2
---
Katie Couric will interview actor Daniel Radcliffe on CBS Sunday Morning tomorrow.
Their chat touches on his life as Harry Potter, his new Broadway play How to Succeed in Business Without Really Trying, his support of the Trevor Project, and how he feels about Twitter.
From the Orlando Sentinal

TV blog:
"This is the joke about me that people have on set, is that I'm an old man in a young man's shell," Radcliffe tells Couric. "So, at the last Potter premiere, of the Seven, Part One, it was my ideal premiere, because I did the red carpet, went inside, introduced the film, went off. I was at home by 10:30, with a bowl of Sugar Puffs, watching the History channel. And I've never been happier."
Two video previews are available from CBS.
An extended version of the interview will appear on Katie Couric's weekly web show

after 9:30 a.m. eastern Sunday.