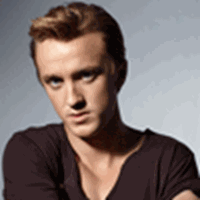 Tom Felton
Tom Felton describes life's ups & downs while working on 'Potter'
October 29, 2010 at 8:59 AM ET
Geri Google News (via Daily Mail)

harry potter, tom felton, draco malfoy
---
In a new in-depth interview

with Tom Felton, (Draco Malfoy), from the Harry Potter movies, Tom discusses how his life has been impacted by the film series, working with his co-stars and what he learned about acting while on set.
On moving on from Harry Potter:
It's a nervous time after having such a sure thing for ten years. Suddenly you are on your own and there is no guarantee of future work. I've got bills to pay and I've got to work.
My last audition was when I was 12, but now I have to put myself out there again and it's not easy. I went to LA for two weeks to see what it was like, and after my first audition I came out and nearly fainted. My legs were shaking and I needed to neck three glasses of water.
It was the worst experience of my life. There were 13 people there — producers, director, casting director, and so on — and it seemed like they were all on their BlackBerries. It's a hard place; they are very happy for you to walk in, see you are not right for the job and say: "Thanks very much, see you later."
On working with Daniel Radcliffe:
He is an endless inspiration to me,' he says of his friend. Professionally, he is a phenomenal actor and he doesn't take anything as a given. In between films he is doing acting classes, anything he can to improve himself.
He is exceptionally polite, terrifically good with names and he hates people who are rude.
But more than anything else he is exceptionally passionate. I can be on set for two weeks and be bored of going over the same scenes. He will have been there nearly two months solid and still be over the moon about filming the next day.
He is so passionate about the film and the franchise that he will be on set even on the days he is not needed.
People think there must be jealousy but there honestly isn't, because no one could touch the part that he plays; not just for the acting but all the other stuff he has to deal with. He has been working almost solidly for ten years but it is his passion and he absolutely loves it.
On working with Rupert Grint:
Rupert is the most laid-back person you've ever met,' he says. 'He is not bothered by anything. You might tell him that his scene has been pushed back for three hours and he'll be fine and mutter: "I'll just play ping pong for a few more hours.
He's unfazed by the fans and the fuss but he remains a ferociously talented actor. He has expert timing and delivery with no effort whatsoever.