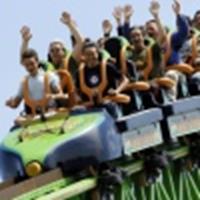 Hang on
'Deathly Hallows' Part 1 will literally move you
October 20, 2010 at 10:14 AM ET
Cheeser HPANA (via PR Newswire)

d-box motion effects, movie theater technology, harry potter and the deathly hallows part 1
---
Quite literally, Harry Potter and the Deathly Hallows - Part 1 will move moviegoers, thanks to D-BOX, a company that "codes" films with subtle seat motion effects that correspond with what's happening on screen.
From the company's press release

:
This seventh installment and first part to the final act, Harry Potter and the Deathly Hallows: Part 1 is the second movie of the Harry Potter franchise to feature D-BOX's Motion Technology. During scenes of dramatic flight and fierce battle, moviegoers will feel subtle motion effects directly from their seats that occur in perfect sync with the onscreen movie action, resulting in a completely realistic, immersive movie experience.
"The support of Hollywood studios like Warner Bros. has been instrumental in our company's steady growth and expansion," said President and CEO of D-BOX Technologies, Claude Mc Master. "This is the second Harry Potter movie to feature D-BOX and we're thrilled to be a part of one of the biggest predicted blockbusters of the year."
D-BOX also coded Half-Blood Prince but there are more theaters sporting the technology

this time around -- 32 in the U.S., one in Canada, one in Japan, and two in the Netherlands. [Editor's note: There are a couple in Michigan, so I'll be sure to check it out and report back!]
Before you go, you might want to read the system's rollercoaster-like warnings

first:
The D-BOX motion system and motion enabled seats may be harmful to women who are pregnant, persons with heart conditions, the elderly, persons with back, head or neck conditions or injuries or those with other pre-existing medical conditions. All such persons should consult their physicians before using the D-BOX motion system or motion-enabled seats.
Use of the D-BOX motion system and of the motion-enabled seats is not recommended for children under the age of ten years old without parental supervision.
Use of hot liquids in the vicinity of the D-BOX motion system or motion-enabled seats must be avoided at all times to prevent spillage which could cause serious injuries to the user.
Sounds like fun!