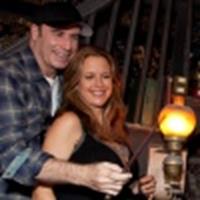 John Travolta
Universal sees magic in bottom line thanks to 'Wizarding World'
October 15, 2010 at 2:23 PM ET
Cheeser Google News (via Orlando Sentinel)

wizarding world of harry potter, universal orlando resort, record quarter, brendan fraser, john travolta, kelly preston
---
Skyrocketing revenue, fueled by their powerhouse Wizarding World of Harry Potter attraction, allowed Universal Orlando Resort to report

its best quarterly results in its 20-year history today.
Attendance across Universal's parks soared 36 percent in the third quarter, revenue rocketed up 62 percent, and net profit nearly tripled:
The results showed Universal is reaping a financial windfall from Wizarding World, the $200-plus million collection of rides, shops and eateries that has drawn enormous crowds to the resort since opening in June.
Universal's quarterly revenue skyrocketed 62 percent to $364 million, fueled by sales of tickets and Potter-themed merchandise ranging from mugs of butterbeer to magic wands.
Operating profit more than doubled, from $61 million a year ago to $127 million during the three-month period that ended Sept. 26. And net profit nearly tripled, from $37 million to $97 million.
"We're happy for what the Wizarding World of Harry Potter has done for our business and for all of the Central Florida tourism community," said Bill Davis, president of Universal Orlando.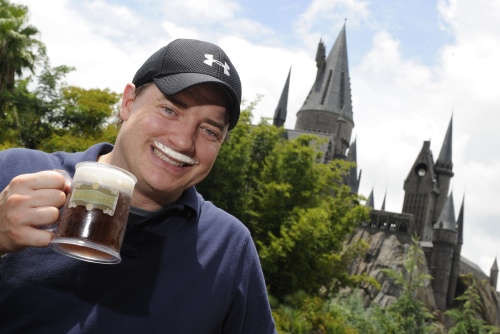 Actor Brendan Fraser experienced
The Wizarding World of Harry Potter
at Universal Orlando Resort with his family while vacationing in Florida on August 9, 2010. While visiting, Fraser tasted the popular beverage Butterbeer – a frothy drink, reminiscent of shortbread and butterscotch, served only in Hogsmeade.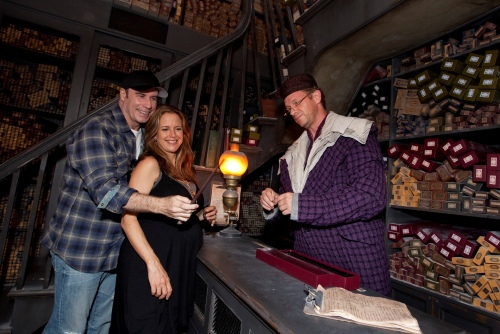 Renowned actor and Golden Globe award-winner John Travolta and his wife, actress Kelly Preston,became immersed in
The Wizarding World of Harry Potter
during their visit to Universal Orlando Resort on Sept. 5. After sipping Butterbeer at the Hog's Head pub, Travolta and Preston stepped into Ollivanders wand shop – where the wand chooses the wizard.