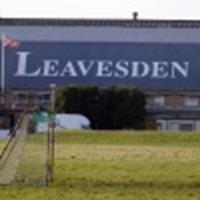 Leavesden Studios
'Deathly Hallows' ends a decade of work on high note
September 16, 2010 at 2:22 PM ET
Cheeser HPANA

harry potter and the deathly hallows, leavesden studios, pinewood studios, harry potter movie making, harry potter films, behind the scenes, interviews
---
Four years ago when I first visited Leavesden Studios, where the Harry Potter films are made, I was as wide-eyed and giddy as any fan could be. In 2008, I went back and was able to contain myself a bit better. But this year was a somber visit. Amidst the constant, frantic work being done everywhere I looked, you could tell people knew it was the end.
Truth be told, the Deathly Hallows production was so intense, Leavesden itself was filled to the brim and the team had to shoot some scenes at Pinewood Studios simultaneously. Much of the team there was thinking only of that day's work, but the feeling of finality was in the air.
There's no doubt the Potter film franchise will go out with a bang. The people at Leavesden -- the cast, crew, crafstmen and all -- truly cared about their work and it was evident in every visit I made to the studio, and in the final products we saw on the silver screen.
Stay tuned to HPANA this fall and next summer as we bring you closer than ever to the making of a Harry Potter movie. On October 5, our full set report for Deathly Hallows will make its debut, featuring interviews and behind-the-scenes tidbits with all the key players of the franchise.