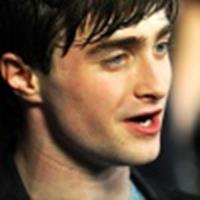 Radcliffe
Video: Daniel Radcliffe tours Hogwarts at 'Wizarding World'
June 21, 2010 at 2:16 PM ET
Cheeser Google News (via MTV.com)

dan radcliffe, harry potter, wizarding world, orlando, hogwarts castle, universal, dumbledore's office, portrait gallery
---
Actor Daniel Radcliffe gave MTV News a walking tour of Hogwarts in the Wizarding World of Harry Potter at Universal Orlando Resort last week.
Strolling through the castle, which is actually the queue for the new ride Harry Potter and the Forbidden Journey, Radcliffe reminisces

about his life on the film sets and considers bringing his future children to the park:
"It does look like 700 feet of rock and castle," he marveled as he gave MTV News a tour of Hogwarts. "What's amazing about this place in general — not just the ride but the place overall — is that it is actually more complete than the film sets. Because, you know, you go in the Great Hall, and you go outside and you see it is actually made of wood and scaffold. As Tom Felton said, he's expecting to see a big green screen at any moment, whereas here it is all just here, and it is kind of amazing."