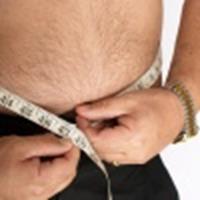 Waist line
Plus-sized 'Potter' park passengers a problem for 'Forbidden Journey' ride
June 18, 2010 at 11:10 AM ET
Cheeser HPANA (via Reuters)

overweight adults, can't ride forbidden journey at harry potter theme park, wizarding world of harry potter
---
Are you a bit fluffy around the waist?
Don't expect to go on the signature ride at Universal Orlando Resort's new Wizarding World of Harry Potter park, (ironically) named "Harry Potter and the Forbidden Journey."
While the only posted size restriction is a minimum height of 48 inches, guests greater than 260 lbs may have difficulty locking the ride's harness, especially if much of that weight is around the belly.
At a press conference during the grand opening events this week, I had the pleasure of sitting next to a reporter at Reuters who filed a report

(quoting yours truly):
Jeff Guillaume of Lansing, Michigan, who in 2002 founded an early online Harry Potter news aggregator and fan site HPANA.com, said fans like him will be disappointed because of limitations on body size to ride the Forbidden Journey.
At 5 feet, 8 inches and 265 pounds (1.72 meters and 119 kg), Guillaume said his mid-section would not allow the restraint system to close, so he could not board the most heavily promoted ride.
Other rides at Universal Orlando Resort feature modified seating for larger guests, but not Forbidden Journey.
UPDATE: I've posted a follow-up to this article. Read it now!