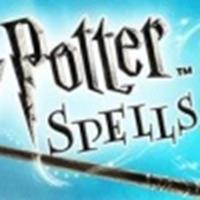 'Spells' app
'Harry Potter: Spells' iPhone and iPod app on sale for 99 cents
May 28, 2010 at 1:42 PM ET
Cheeser HPANA (via Warner Bros.)

harry potter spells app, harry potter iphone app, harry potter app, app store, apple harry potter
---
Warner Bros.' Harry Potter: Spells app

for iPhone and iPod Touch is on sale for 99 cents this Memorial Day weekend.
You can also join the app's Facebook Page

and vote on new spells to be added (including Unforgivable Curses!).
Once enrolled, receive the wand destined for you before being Sorted into one of the four houses by the Sorting Hat. Then using specific hand gestures for each of the 14 spells, practice, practice, practice before experiencing the ultimate contest - Duelling!
Compete against the computer or challenge a friend to a real-time duel – player versus player, casting spells from one device to the other. Earn valuable house points for your house while learning, practicing and dueling. Visit the house points section to see your wins and losses in duelling. You can also see where you rank globally - in your house or in all of Hogwarts. Finally, share it with the rest of the world by posting it to your Facebook page via Facebook Connect.
Game features:
14 Powerful Spells:
Stun your opponent with Stupefy or disarm them with Expelliarmus, and many, many more
Intense Dueling Action:
Single Player: Cast spells against three different difficulty levels Multiplayer Player: Challenge a friend to a duel and cast spells from one device to the other in real-time encounters
Authentic Experience:
From visiting Ollivanders to being Sorted by the Sorting Hat
Practice Makes Perfect:
Tutorial system educates and trains, grading you on your spell casting performance, thus unlocking spells as you go
Monitor Your Ranking:
Keep an eye on your wins, losses and House Cup rankings to be the most skillful wizard in Hogwarts Share With Your Friends – Post your Harry Potter: Spells stats on your Facebook page using Facebook Connect
Share With Your Friends:
Post your Harry Potter: Spells statistics directly to your Facebook page
Click here

to buy the app.