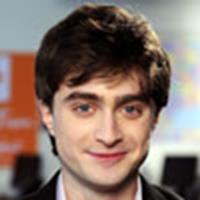 Daniel Radcliffe
Confirmed: Dan Radcliffe to return to Broadway in 2011
April 15, 2010 at 6:42 PM ET
Jeremy DanRadcliffe.com (via Playbill.com)

Daniel Radcliffe, Harry Potter, Broadway, How to Succeed in Business Without Really Trying,
---
As confirmed by Playbill

, and in the latest issues of Variety

and AP

, Daniel Radcliffe is scheduled to return to Broadway in 2011 with the revival of the hit musical from Frank Loesser's How to Succeed in Business Without Really Trying. The show will mark the first musical (and comedy) for Dan, as he takes on the title role.
According to Playbill

:
Tony Award winner Rob Ashford, who is currently staging the Broadway revival of Promises, Promises, will direct and choreograph How to Succeed. Promises, Promises producers Broadway Across America (John Gore, Thomas B. McGrath, Beth Williams), Craig Zadan and Neil Meron will present the revival.
Radcliffe and Ashford previously took part in a December 2009 reading of the musical in New York City.
A brief synopsis:
J. Pierpont Finch (Radcliffe), a young but bright window-cleaner buys a book - How To Succeed In Business and following its advice joins the multi-national but poorly-connected "World-Wide Wicket Company". Starting from the mail-room he rises to Vice-President in Charge Of Advertising using sneaky and dubious ways so that the person above him gets either fired or moved to another section of the company. He also starts slowly falling in love with secretary Rosemary Pilkington. Meanwhile, the president of the WWWC, J.B. Biggley, tries to have an affair with drop-dead gorgeous bubble-head Hedy LaRue, but she becomes a weapon used both by Finch and Bud Frump, Biggley's brattish and annoying nephew who believe that he should get all the breaks and not Finch. Can Finch rise to the top or will it all go down in flames...
As of now, the show is set to debut in Spring 2011, which may interfere with Dan's duties for the release of Harry Potter and the Deathly Hallows - Part II.
We will be sure to update you as more news regarding this story develops.