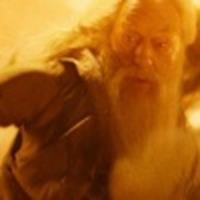 Dumbledore
Fire spreads on 'Harry Potter' set; no injuries
March 21, 2010 at 6:30 PM ET
Cheeser HPANA (via Watford Observer)

harry potter fire, harry potter set, harry potter and the deathly hallows filming, fire at leavesden studios, battle of hogwarts fire, explosion, pyrotechnics
---
A large fire broke out during filming of Harry Potter and the Deathly Hallows at Leavesden Studios on Friday.
Planned fire effects spread to a nearby set, a castle facade made of tinder, steel and plastic, according to a Watford firefighter. No injuries were reported:
Watch commander Tony Smith said: "I think they are filming some stunts for the last scene. There is a big battle scene involving a lot of pyrotechnics and explosions."
"By the time we got there the on-site fire crew had it pretty well under control - they did a good job."
"I didn't see any cast - but there were about 100 crew [...] They didn't seem too concerned."
Smith concluded: "It's hard to say how much damage was caused, because some of it may have been planned as part of the filming. Perhaps they got much better footage than they expected."
Many thanks to Tom and Suzie for emailing, as well!