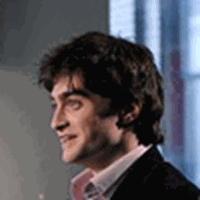 Daniel Radcliffe
Daniel Radcliffe has 'accepted' the end of the 'Potter' films
March 1, 2010 at 9:16 AM ET
Geri Yahoo! News (via MTV Music Television)

harry potter and the deathly hallows movie, deathly hallows movie, hpdh movie, daniel radcliffe, dan radcliffe
---
In a new interview with Harry Potter star Daniel Radcliffe, done while he was in New York last week, Daniel talks about

'accepting' that the end of making the movies is just months away and the news that Warner Bros. is purchasing Leavesden Studios.
"It will be very sad when it comes to a finishing," Daniel Radcliffe said of his rapidly diminishing days working on the final "Potter" film. "But it's something you have to accept."
"It's also very exciting [to be finishing the series]," he said. "And I'll hopefully have something to go onto shortly afterwards."
Daniel on saying goodbye:
"Yeah, we've had a few people finish off their stories in the film, and they've been going home," Radcliffe said of actors like Helena Bonham Carter, who told us recently that she wrapped a few months ago. "It is odd [seeing them leave].
"I did have a moment the other day, in the makeup room that I have been in for 10 years now," he revealed. "I did walk in and go, 'Wow, this is [hitting me]. One day — in about four or five months from now — I'm gonna walk in here for the last time.' Especially since, after we're done shooting, they're redoing the entire studio, tearing down and starting again."
Additionally, Dan had this to say about the Warner Bros. purchase:
"It's going to be amazing," he said of the renovation of the stages that have housed "Potter" for a decade. "A big investment is going into Leavesden [Studios], and England will finally have a third film studio. They've always had Shepperton and Pinewood, but to have Leavesden? That will do wonders for the film industry in England, which is always a struggle to keep going."
With Warner Bros. recently announcing plans to purchase the studios and establish a permanent U.K. base, Radcliffe told us that it's just another reason the "Harry Potter" films have been such a joy to work on. "What's been amazing about Potter is that Potter has been the major film in England for the last 10 years," explained the star, who also recently used his star power for good while filming a public-service announcement in support of the Trevor Project. "[Our films] have given a lot of people jobs, myself included."
Harry Potter and the Deathly Hallows - Part 1 is scheduled for November 19, and Harry Potter and the Deathly Hallows - Part 2 comes out July 15, 2011.