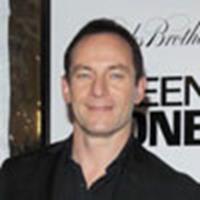 Jason Issacs
Jason Isaacs talks about end of series
February 27, 2010 at 8:56 AM ET
Geri Yahoo! News (via Coming Soon)

harry potter and the deathly hallows movie, deathly hallows movie, hpdh movie, jason isaacs
---
Actor Jason Isaacs who has plays Lucius Malfoy in the the Harry Potter movies talks about

the end of Deathly Hallows Part 2 and how sad it is to be at the end of the film making process.
They made the last book into two films, and it was a fantastic experience because everyone who is left alive is back... and even some of the dead people," he said with a sly smile. "There is one long sequence where everyone who is left standing is there when the forces of good meet the forces of evil."
"I think over the years that they've been adapting these incredibly popular and successful books, they've increasingly become more and more confident in their ability to make great cinema experiences out of it and where they need to change the book or the central thrust of the story, they do it now with real aplomb and with Jo Rowling's blessing," he continued. "Everybody is very savvy to the notion that this is a much-loved franchise and this will be the end of an eighth film, and it needs to have weight and substance and you need to feel drained by the end of it. It's a ten-year roller coaster ride, not a two-hour roller coaster ride, and we all know it and we all felt it, and it was in the air while we were shooting it."
"This franchise goes out in an epic way," he concluded. "I think the end of the films will be a fantastically cinematic and visual feast and it will more than satisfy the readers of the books, but what you won't get is the book on screen. You will get something more and different."
"It's very sad for me," he admitted when asked about how he felt about the movies coming to an end. "I'm a particularly sentimental fool anyway so I was already nostalgic for the history of Harry Potter while I was still making it, and I knew the end was coming. I was always cognizant of the fact I was going to have to pack up my furry friend of a wig and stick it in a box and say goodbye to the cane and any magic powers. All the joy was tinged with sadness for me."
Harry Potter and the Deathly Hallows - Part 1 is scheduled for November 19, and Harry Potter and the Deathly Hallows - Part 2 comes out July 15, 2011.