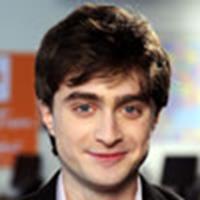 Daniel Radcliffe
Update: Dan Radcliffe to be interviewed with APLive today
February 26, 2010 at 5:16 AM ET
Geri DanRadcliffe.com (via AP. Live)

daniel radcliffe, dan radcliffe, the trevor project
---
Later today (3:30 pm ET), actor Daniel Radcliffe will be interviewed by APLive which will be broadcast via Livestream. Details on what will be discuss are vague but the Harry Potter movies and his stint on Broadway will surely be discussed.
You can view the interview below starting at 3:30 pm ET today:
UPDATE: The interview conducted today with Dan in New York discussed his involvement with The Trevor Project

, a leading organization focusing on suicide prevention efforts among gay, lesbian, bisexual and transgendered youth. Dan created a PSA (public service announcement) & discussed coming across homophobia for the first time and more.
I have described myself as being 'gently eccentric' and slightly different as a person just because I've had a very different set of influences growing up than anybody else in my peer group did. I've always felt very lucky to have the life that I've had. I never had to cope with anything serious about my religion or sexual orientation or anything like that.
I think it's important for somebody from a big, commercial movie series like 'Harry Potter' and particularly because I am not gay or bisexual or transgendered. ... The fact that I am straight makes not a difference, but it shows that straight people are incredibly interested and care a lot about this as well.