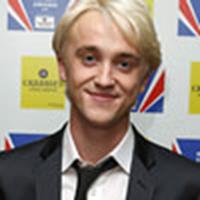 Tom Felton
Tom Felton discusses Draco's 'weird love/hate relationship' with Harry
February 10, 2010 at 3:48 PM ET
Geri HPANA (via MTV.com)

harry potter and the deathly hallows movie, deathly hallows movie, hpdh movie, tom felton
---
In a new interview, Tom Felton (Draco Malfoy), discusses

the bond that his character has with Harry and explains that they have a "love/hate relationship." Tom, who is shortly to begin filming

The Apparition in Berlin, will return for the end of shooting on Harry Potter and the Deathly Hallows in the coming weeks.
According to Tom:
Harry and Draco almost have a bond, and they save each other's lives on numerous occasions. It's a really weird love/hate relationship. It's great that it's left to our interpretation of how and why this is all happening. We have shot some really interesting stuff with me and Daniel — me saving him and him saving me. For once, we're not just bickering!
Harry Potter and the Deathly Hallows, Part I opens November 19th, 2010.