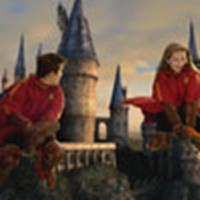 Commercial
Update: 'WWoHP' commercial set to air during Super Bowl
February 3, 2010 at 9:07 AM ET
Geri HPANA

wizarding World of Harry Potter, Universal Orlando Resort
---
With the opening of Universal Orlando Resort's "Wizarding World of Harry Potter" set to open this coming Spring, a commercial is set to air during this year's Super Bowl. The commercial will feature all-new footage with Harry Potter and two children experiencing the sights of the new attraction.
According to the press release:
Universal Orlando Resort will launch a brand-new, national commercial for The Wizarding World of Harry Potter during Super Bowl XLIV. The ad, created by Universal Orlando and Rosso Media Ltd in the UK, offers guests a look into the magic that awaits them at the highly anticipated theme park experience set to open Spring 2010.
Set to air during the first half of the Super Bowl, the ad features all-new footage and pulls viewers directly into the new area – from the bustling village of Hogsmeade, to the immensity of Hogwarts castle. The commercial also features Harry Potter and two children who get a glimpse at the excitement guests can expect to experience when they visit The Wizarding World of Harry Potter.
The commercial also begins a new brand campaign, "Be Courageous. Be Outrageous. Be Extraordinary." showing viewers that Universal Orlando Resort is the only theme park destination in the world where you can soar above Hogwarts castle with Harry Potter, swing above the streets with Spider-Man and help Shrek save Princess Fiona in Shrek 4-D.
Inspired by J.K. Rowling's compelling stories and characters, The Wizarding World of Harry Potter will provide visitors with a one-of-a- kind experience complete with multiple themed attractions, shops and a restaurant.
The Super Bowl is scheduled to air on CBS this Sunday, February 7th at 6:25 p.m. (please check your local listings). You can watch the commercial here

.
Thanks to Universal Orlando Resort for sending us the news.
UPDATE: The commercial has now been added to the official

Universal Orlando site which also contains a new microsite, featuring:
A first-person perspective, photo-realistic video of Hogsmeade and Hogwarts castle
The Wizarding World News, which will provide guests with information about The Wizarding World of Harry Potter
Visuals and details about the various shops, attractions and the eating establishment in the land
Owl Post e-cards for friends and family