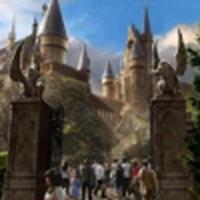 Attraction
Update: Tour 'Wizarding World of Harry Potter' via webcam
January 28, 2010 at 2:59 AM ET
Cheeser Yahoo! News (via USA Today)

wizarding world of harry potter, universal studios florida, augmented reality, virtual tour of hogwarts, harry potter theme park
---
Universal Orlando Resort is debuting a virtual online tour of the Wizarding World of Harry Potter attraction Thursday through a partnership with USA Today.
Using a map found in Thursday's print edition, users with a webcam can experience an "augmented reality" three-dimensional tour

of the park online:
Augmented Reality blends real-life environments with computer animation allowing you to explore things in a completely new way. For the first time, guests can explore The Wizarding World of Harry Potter in a unique way - before experiencing it firsthand.
By rotating the map, you can take a closer look at this 20-acre magnificently themed environment from all sides and angles. Hogwarts Castle will appear before your eyes. Hold the map closer to your webcam and explore Hogsmeade and see the Hogwarts Express. Blow on your computer's microphone and the banners on the map will wave.
The attraction opens this spring in Florida at Universal Orlando Resort.
Be sure to stay tuned today for updates to this story!
UPDATE: Thanks to UHP

for letting us know USA Today now has both an instructional video and printable map online

.