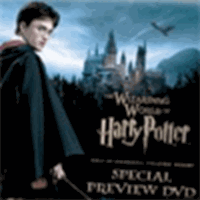 Free DVD
For UK fans: Celebrate 'The Wizarding World of Harry Potter' with free stuff
January 12, 2010 at 11:38 AM ET
Geri HPANA (via The Telegraph)

Wizarding World of Harry Potter, Universal Orlando Resort
---
Some lucky fans in the UK have a chance to view The Wizard World of Harry Potter footage courtesy of the Daily Telegraph this coming weekend (January 17th and 18th).
The newspaper is giving away

free a DVD highlighting Universal Orlando Resort's newest addition on Sunday. The following day, fans will also be able to get a free Harry Potter and the Hogwarts castle mouse pad -- all they have to do is pick up the newspaper.
According to the newspaper:
Explore Universal Orlando® Resort's all new The Wizarding World of Harry Potter™ with a world exclusive preview DVD inside The Daily Telegraph on Saturday, January 16. Plus, free inside The Sunday Telegraph on January 17, get a fantastic colour mouse mat of Harry Potter and Hogwarts castle*.
Experience a preview of The Wizarding World of Harry Potter™ with this world exclusive, special edition DVD. Go behind the scenes of the magical new world and find out how the creative teams at Universal Studios and Warner Brothers conceptualised the new attraction. Watch interviews with the stars of the film series and get a sneak peak of the amazing new rides and attractions. You can also view an exclusive magical, 3D tour of the theme park and access brilliant interactive extras for your computer including print outs, downloads and an interactive attraction map that's just like the version from the films.
Thanks to the Telegraph for directly sending us the information.