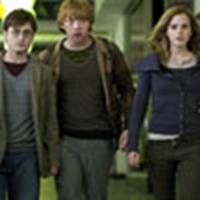 First official image from 'DH'
First official image from 'Deathly Hallows' & new interviews from cast
December 1, 2009 at 7:44 AM ET
Geri HPANA (via Various)

harry potter and the deathly hallows movie, deathly hallows movie, hpdh movie, daniel radcliffe, dan radcliffe, rupert grint, bonnie wright, david heyman, david yates
---
The first official

picture from the Harry Potter and the Deathly Hallows film has been released. In a new interview, featuring the image, Rupert Grint and director David Yates discuss the film and the grown-up aspects. According to Rupert:
They're paranoid. It's quite a scary world because the Snatchers and Death Eaters are running around everywhere. Harry, Ron and Hermione are just camping out in random places, living rough, in regular clothes.
Me and Dan actually have some stubble.
Additionally, new interviews with Daniel Radcliffe, Rupert Grint, Bonnie Wright & Tom Felton discuss

life after Potter with producer David Heyman always there for a call, if they need it.