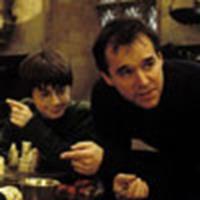 Columbus & Radcliffe
Chris Columbus reminisces about the beginning of the 'Harry Potter' movies
November 16, 2009 at 7:58 PM ET
Geri Yahoo! News (via Los Angeles Times)

harry potter movies, chris columbus
---
Chris Columbus hasn't worked on the Harry Potter movies for many years but in a new interview for his newest movie, Percy Jackson & the Olympians: The Lightning Thief, Columbus says

that it has "been a joy to watch Daniel Radcliffe, Emma Watson and Rupert Grint graduate to bigger and better things."
Columbus adds:
My biggest pride is seeing the pictures now, and watching the three of them from a distance, and seeing them do an entire scene in one shot. Seriously, I know that sounds funny, but in the old days -- and, you know, the old days meaning eight years ago -- and in that first picture in particular, it's filled with cuts because they couldn't really get beyond the first line without either looking into the camera, laughing or looking at the lights.
You can read the complete interview here

.