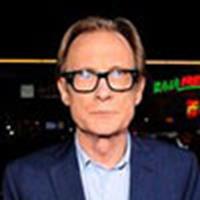 Bill Nighy
Bill Nighy discusses 'Deathly Hallows' script security
October 21, 2009 at 8:08 AM ET
Geri Yahoo! News (via Press Assoc. via Yahoo! UK & Ireland News)

Harry Potter and the Deathly Hallows, DH, hpdh, bill nighy
---
Bill Nighly (Rufus Scrimgeour) recently finished filming his role in Harry Potter and the Deathly Hallows and in a new interview

discussed the security measures taken to protect the movie script as well as feeling as he was going to be the only British actor who had not worked on a Potter movie.
They kill you, if you leave your script lying around or leave it on the bus, you're dead.
You have to sign a confidentiality (agreement) and stuff like that which is perfectly understandable. So if I tell you any more, they'll come round my house.
It was very sweet, very nice to work with him, and with Emma and Rupert, and with David Yates as this is my fourth time working with him.
It's great. I thought I was going to be the only British actor of a certain age not to be in Harry Potter and it turned out not to be true so it's kind of cool.
Part one of Harry Potter and the Deathly Hallows opens next year on November 19th, 2010.