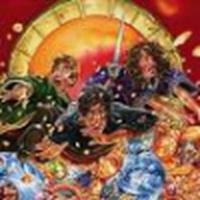 'Deathly Hallows'
Spoiler: 'Deathly Hallows' script details, splitting point discussed
August 20, 2009 at 7:13 PM ET
Jeremy MuggleNet

Deathly Hallows, Harry Potter, Joshua Herdman, split, goyle, script, change
---
At a recent Harry Potter convention, MuggleMayhem, actor Joshua Herdman (Gregory Goyle in the film series) revealed the point at which he thinks the split of the two Harry Potter and the Deathly Hallows movies is expected, as well as changes to the script involving his character.
SPOILER WARNING: Do not continue to read if you do want to know this information!
When asked where the split would take place, Herdman said that the current plan was to end Part I right after Harry, Ron and Hermione are captured by the snatchers, thus beginning Part II with the scene at Malfoy Manor. Director David Yates and producer David Heyman have stated that the split is subject to change at their discretion should they find a more suitable spot.
Furthermore, due to the recent arrest of Jamie Waylett (Vincent Crabbe) the script has been changed to have Goyle die instead of Crabbe, who at this point will not make an appearance in either Deathly Hallows: Part I or II.
Thanks to Jamie and MuggleNet for the news.