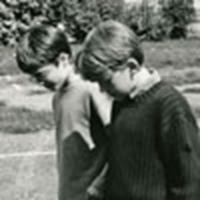 Young Daniel & Rupert
Heyman discusses trio & reminisces on 'Potter' franchise
July 20, 2009 at 9:55 PM ET
Geri HPANA (via LA Times)

daniel radcliffe, rupert grint, david heyman, harry potter franchise
---
In a new interview published today but conducted last year and last week with Harry Potter producer David Heyman while he was in Santa Monica, CA, David showed

a rare photo of actors Daniel Radcliffe and Rupert Grint to the reporter while discussing the franchise, the movies and the actors.
Mr. Heyman on the future of the trio:
I know they all will have great success in whatever they choose to do. Emma is astonishingly bright. She is radiant and relaxed. Dan is extremely focused on his acting, and I have the fortune too to read his poetry and short stories, and there are some major poets who have written the most glowing, supportive things about his work. And Rupert — Rupert is the most natural comedian of the bunch. I think that he is like an old person in a young person's body. He is a wonderful eccentric, a distinct original.